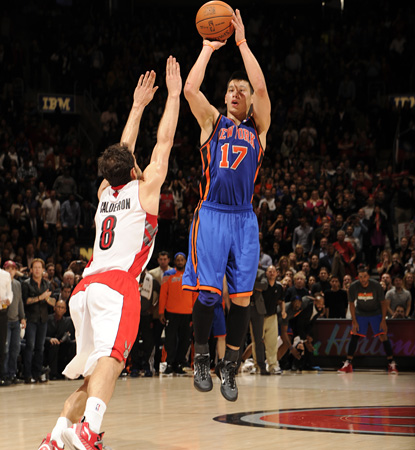 This kid Jeremy Lin has made a phenomenal impact with the New York Knicks the last couple of weeks. He appears to have saved the Knicks season and head coach Mike D'Antoni's job at the same time! That was a huge shot in a pressure situation last night to win the game over a stunned Toronto Raptors team.
The Knicks looked to be in a complete free fall just three weeks ago, but are now the hottest team in the NBA with six straight wins. This Knicks team looks completely different and it's because of Lin. I can't help but to root for this kid because he's the ultimate underdog who finally got a shot and has more than seized the moment!
Look at the energy and team chemistry that is being displayed by this Knicks team now, they look like a serious Eastern Conference contender at the moment. It shows just how fast things can turn in the world of sports! I'm not saying the Knicks will win anything this year, but you never know, stranger things have happened.
A positive mindset and team chemistry mixed with some talent can take a team far, look at the New York Giants! The road to the NBA Playoffs is shaping up to be a dandy and very entertaining ride, get your popcorn ready.