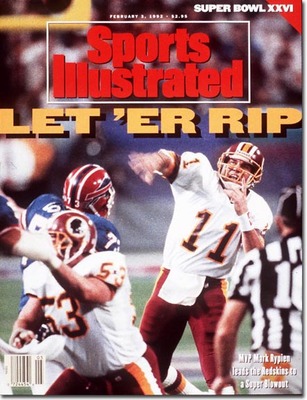 I just can't believe it's been 20 years now, two decades, since the Washington Redskins won their last Super Bowl. That was a magical season and extremely satisfying for Redskins fans.
That Redskins team was almost machine like with it's precision, they could beat you on both offense and defense. We also had top-notch play on special teams.
The Hogs would open huge running lanes and allowed nine sacks, all season! We had  a one-thousand yard runner and two WR's with at least one-thousand yards as well.
That was also the year we all rode along with Tony Kornheiser's Bandwagon all the way to Minneapolis for our date with the Buffalo Bills in the Super Bowl.
The 1991 team may have been the best team in franchise history. It was the fourth Super bowl appearance in a 10 year period during head coach Joe Gibbs' 12 years steering the ship.
1991 Washington Redskins Team Stats & Leaders
Offense scored 485 points (30.3 per game avg) NFL Rank#1
Defense allowed 224 points (14.0 ppg avg) NFL Rank #2
QB Mark Rypien 3,564 yards 28 TD 11 Int
RB Earnest Byner 1,048 yards 5 TD 34 rec 308 yards
RB Ricky Ervins 680 yards 3 TD 16 REC 181 yards
RB Gerald Riggs 248 yards 11 TD 1 rec 5 yards
WR Art Monk 71 rec 1,049 yards 8 TD
WR Gary Clark 70 rec 1,340 yards 10 TD
WR Ricky Sanders 45 rec 580 yards 5 TD
DE Charles Mann 11.5 QB Sacks
CB Darrell Green 5 Int
LB Wilbur Marshall 5 Int
The Hogs allowed 9 QB sacks for the entire season, dominant is the only word to describe what they did during the 1991 NFL season.