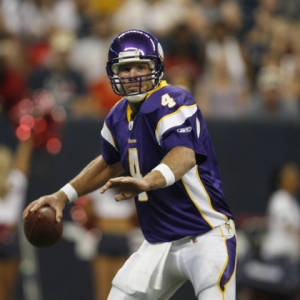 It's time to move on from this gross infatuation that many people have with Brett Favre because he's not coming back, but the NFL is in a couple of days. Favre has nothing left in the tank and had nothing left at the end of last season.
The rumor of him coming back and playing is totally ridiculous and I'm not going to even continue talking about it.
This, right here, is why we can't have nice things. The NFL lockout is literally on the verge of ending, which pleases people to an almost disturbing level, and what's the first thing we get?
A Brett Favre rumor. A bad Brett Favre rumor. A stupid Brett Favre rumor.
Frankly, I'm not sure we deserve the lockout to be over yet if that's what we are starting the new Pax Goodelliana with — Brett Favre, for God's sake.
The rumor was that the Philadelphia Eagles were intrigued by the notion of bringing Favre in to back up/mentor Michael Vick. Favre, who mentors to nobody. Vick, who just got free of Kevin Kolb looking over his shoulder. The Eagles, who have created/fostered more than their share of drama over the past five years — enough to make them seem like Cowboys East.
The rumor was so noxious that the Eagles dismissed it with great vigor and verve almost as soon as it saw daylight, and normally teams like to let a rumor that has some link to reality marinate in the sun to see how the customers like it. In short, no Favre to the Eagles.
But the more troubling fact remains that of all the possible story lines to open the new era with, we got an old, hairy, bloated one that frankly we should have been done with long ago.
This is about the people who churn out offseason stories, and the people who throw logs on the fire to keep the rumor mill churning. This is about them — us — having nothing better than Brett Favre.